Music festivals are a hub for summer fun. Festivals attract an especially young, active audience who are not shy about sharing experiences on social media. At the conclusion of the festival season, Mashwork partnered with Eventbrite to investigate social media conversation surrounding music festivals in the past year. The full study can be found here. Our study incorporated over 21 million posts across Twitter, Facebook, blogs, and forums and provides a clear window into the extensive social conversation that music festivals generate. In fact, we found that there was a 34% increase in music festival conversation from 2013 to 2014. To confirm and quantify what we already suspected, 75% of conversation about music festivals came from Millennials (ages 17-34).
Press Round-Up
Several major media outlets picked up our research, and each added a different layer of nuance to the analysis.
As reported by The Huffington Post, our research indicates that fans cared more about festival branding and lineups as a whole than they did about specific artists and performances.  The Huffington Post also displayed a heat map we created showing the states with the greatest conversation volume as well as the festivals driving the most buzz. New York (aided by Electric Zoo Festival) received the greatest conversation volume of any state, followed closely by Nevada and California.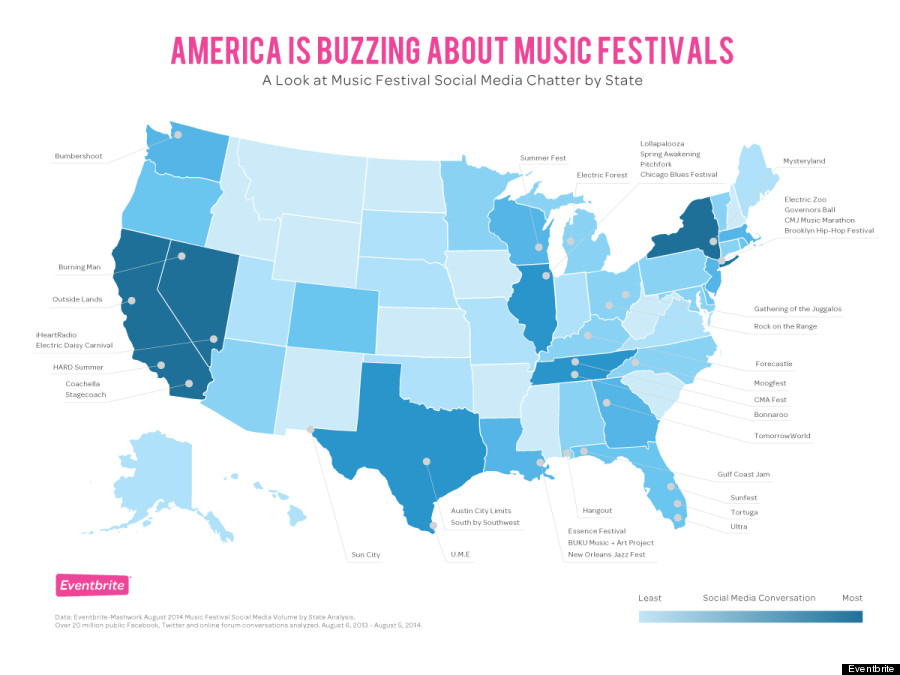 Time took a slightly different angle, highlighting South by Southwest (SXSW) as the most buzzed-about music festival. SXSW edged out other major festivals like Coachella, Lollapalooza, and Governors Ball. Time also focused on which brands were popular among festival goers. Mega-brands Starbucks, McDonalds, and Walmart scored the highest.
The New York Daily News and Digital Journal both noted the skyrocketing popularity of Electronic Dance Music (EDM), pointing out that eight of the top 25 most buzzed-about festivals were part of the genre. Tomorrowland, which finished third on the list, was the highest scoring EDM festival.
Opportunities for Festivals
We also found two important areas where festivals can improve on organizing social media conversation and increasing buzz.
Festivals have the opportunity to garner huge engagement outside of the actual event. A significant portion of conversation about music festivals came from fans that were not able to attend in person. The category we called Fear of Missing Out (FOMO) accounted for 21% of posts about festivals, and 23% of posts came from people who were participating in the festival remotely (e.g. watching a live stream). Festivals have an opportunity to win over these audiences through improving live stream offerings and offering exclusive content to connect fans in attendance with those observing from afar.
Festivals can improve buzz and analytic capabilities by encouraging branded hashtag use. Only 19% of posts about the top 10 most buzzed-about festivals included a branded hashtag. By using branded hashtags, festivals are far more likely to both generate buzz and to easily determine which elements of a festival are popular or unpopular.
Though festival season is winding down, we will continue to keep a close eye on social media trends, demographics, and popular festivals. As new festivals crop up every year, conversation on social media is bound to increase.