This week brought the premiere of Fox's highly-anticipated new series Gotham, which premiered to eight million viewers and generated 146,000 tweets the evening of the show's premiere. A crime series set in Batman's hometown, Gotham follows a young James Gordon as he deals with a corrupt police department and city overrun with criminals (and future supervillains).
We used our qualitative social insights platform Canvs to analyze the premiere and see how fans really felt about the new show. 38% of fans who tweeted an emotional reaction about Gotham "loved" the series, immediately responding to the new cast of characters, particularly Ben McKenzie as Jim Gordon, Robin Lord Taylor as Oswald Cobblepot (later to become the Penguin), and Jada Pinkett Smith as Fish Mooney. The active Twitter presences of the Gotham cast also contributed to the discussion, with Pinkett Smith (@jadapsmith), McKenzie (@ben_mckenzie), Lord Taylor (@robinlordtaylor) and Logue (@donallogue) all among the most-mentioned accounts the evening of the series premiere.
https://twitter.com/ben_mckenzie/status/514160102128230401
20% of reactions to Gotham on Twitter showed some sort of "excitement" for the show (peaking during the first five minutes of the premiere), and another 20% thought the show was simply "good." 11% of Twitter reactions found the premiere "interesting," peaking following a scene where Mooney adjusts her wig after beating Cobblepot with a baseball bat.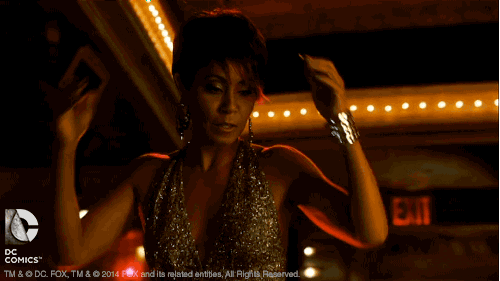 Fan communities appear to be already rallying around the new series, with a Twitter account (@GothamAddicts) and a podcast (@GothamTVPodcast) already playing a role in the premiere's discussions. Hashtags for sub-communities discussing Gotham also were used the night of the premiere; #yunggotham was utilized by popular Twitter accounts like Black Girl Nerds, The Nerds of Color, and Black Nerd Problems, and while the hashtag #gaytham was used by After Ellen and Geeks OUT.
https://twitter.com/BlackGirlNerds/status/514214517224796160
However, 10% of emotional responses had fans noting that they were "unsure" about Gotham, taking a cautious approach to the series, along with a significant amount of outright criticism. 6.3% of tweets with reactions used the phrase "so far" - indicating that fans are approaching their commitment to the series cautiously.
https://twitter.com/CHRIS_Daughtry/status/514247112801148928
We'll have to wait and see if Daughtry sticks with Gotham -- it looks like there's a good chance many others will.
Tweet Source: Nielsen. Relevant Tweets captured from three hours before, during, and three hours after an episode's initial broadcast, local time